FROM AIRACOBRA TO MiG-29

While preparing this material about the fighter aircraft from Rostov Oblast', I met with Guards Colonel Sergey Anatol'yevich Zhivotov, commander of the Millerovo Air Group, and conducted a short interview with him (2010).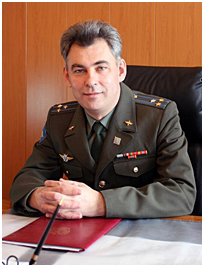 I Am Convinced - Good Times Are Back
AP: Sergey Anatol'yevich, the new face of the Russian Federation Armed Forces has brought serious changes in the VVS structure. Until recently you were commander of the 19th Guards Aviation Regiment, and now you have become and air group commander. This circumstance undoubtedly has added to your concerns. Tell us about the principal differences between the old scheme for control of the aviation unit entrusted to you and the new structure.
SA: If you compare the structure that existed prior to August 2009 when the 6972nd Guards, Baranovichi, Red Banner, Order of Suvorov IIIrd Degree, Category-One Air Base and our former Millerovo Air Group [the 19.GvIAP] that became a structural subunit within its complement, essentially everything has changed. One can say that supervision of an airfield and all support units located there has transferred to single hands. I will explain why. When the aviation regiment existed, I as commander supervised the regiment exclusively without direct influence on the units supporting it. The base commander occupied himself with logistics support, the communications battalion occupied itself with supplying lighting equipment and all types of communications, the Radar Troops took care of radar.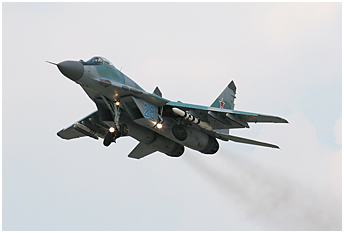 This all was one organism, but it was separated, having a complex structure of mutual relationships. Now everything is included within the air group. The commander is alone and all remaining commanders became his deputies. This introduces specific difficulties since previously there was no need to deal with support questions. One must know the specifics of each of the enumerated areas and they are multifaceted. Without question, it is difficult for people to refocus under the new rules of service, the rapidity of making decisions and executing them. To achieve this, we are conducting flying training exercises with a new format on the background of which are special tactical lesson for logistics, for communications. Prior to creation of the air group, each commander conducted similar training separately, sometimes even without consideration for each other's requirements. I will repeat that now one person supervises everything, extraneous links in the chain have been removed and, as a result, the distance from the center of decision making to the direct executors has been reduced.
The new 6972nd Air Base is composed of four squadrons. Two MiG-29 squadrons are based at Millerovo (former 19.GvIAP) and two Su-27 squadrons are based at Krymsk (former 3.GvIAP).
Many aircraft at Millerovo are former MiG-29 of the 31.GvIAP from Zernograd (and Falkenberg) which was disbanded. Some 'Fulcrum' of the regiment went also to an ARZ.
AP: The [19th] Guards aviation regiment was the predecessor of the air group. Are you now retaining the Guards traditions that our veterans laid down back during the Great Patriotic war?
SA: Naturally, the continuity remained. The category-one air group was created from three regiments: 19th Guards, 31st Guards and 3rd Guards. Having transferred their traditions and combat history, the Baranovichi Red Banner, Order of Suvorov IIIrd Degree Air Base became a Guards unit (1).
AP: How did the veterans of the regiment look upon the fact that their own 19th GvIAP actually ceased to exist in 2009?
SA: The regiment ceased to exist only on paper. All personnel, flying and engineer-technical, the logistics and communications services, everyone who was with us all those years, remained and formed the backbone of the extant air group.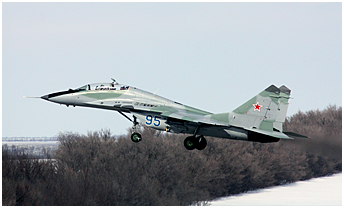 Mostly thanks to Major Vyacheslav Lavrenkov, my deputy for educational work, active officers and veterans of the regiment dealt with the unfolding situation with understanding. They have retained January 17, the day the regiment was formed, as a mandatory holiday. Veterans residing nearby always remain our honored guests and visit the regiment both that day and on the Armed forces day (February 23) as well. A positive moment that both we and our veterans mark is that first and foremost the unit became fully equipped with aircraft. It is a nonsense to hide the fact that in past years the situation with combat aircraft was very stressful. There were aircraft at the airfield but their condition did not meet necessarily the assigned requirements. Now, after all the organizational and manning measures, we actually are at 100 percent regarding the equipment. In the last few years we actively have had our MiG-29 restored at aviation repair enterprises. We lack just a few aircraft and the air group will be fully combat ready. You have observed yourself at the airfield new aircraft, whose paint was still smelling fresh, that have recently undergone refurbishment and major overhaul to extend their service life many years forward.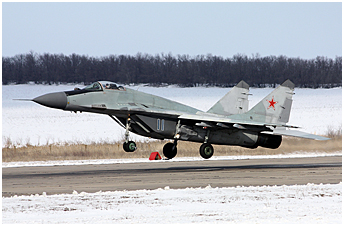 At present we are meeting the requirements of a constantly combat-ready unit. That has not been the case for a long time. This immediately manifests itself in flying personnel training and flight intensity. We are now flying four times a week. For a series of objective reasons, we cannot set up a schedule of two shifts per day, but I think that we will switch to that operating rhythm beginning in April [2010]. Thus, the level of experience of the flying personnel, both on an individual and on a group level will increase. That of the Engineer and Technical Service and the Logistics Service will do likewise. Problems also exist. First, we did not use to operate that way and this exerts a definite impact on the psychology of the people. There has not been a time when today's young lieutenants and captains were faced with such an intense workload being the norm. They leave school with only 70-80 flying hours. Just for comparison, when I graduated from flying school I had 275 flying hours and that was not considered that much of an indicator.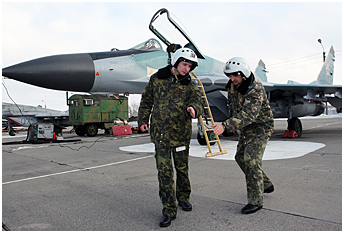 But, I am convinced - the good times are back. The average flying time for our pilots is now 80-100 hours per year and this indicator will grow. Consequently, the various situations will not be worked out via a "tarmac walk-through," but repeatedly practiced in the air. Flying skills and experience also will improve. Returning to the discussion of the young personnel, I can say that people becoming part of aviation do not need to be pushed, they will rush themselves into the heavens and our only job is to prompt them, direct them, plus correct mistakes a bit. One cannot avoid mistakes, but the striving and desire to fly are enormous. As far as the aircraft we fly are concerned, the MiG-29 is very forgiving and makes it easy to assimilate it quickly. The aircraft is very flyable and there are no difficulties with it. We have two very young pilots who arrived in 2008, these being lieutenants Aleksey Selivanov and Sergey Vaytenko. A short time passed before the lads left the training group and they are already flying solo under instrument meteorological conditions.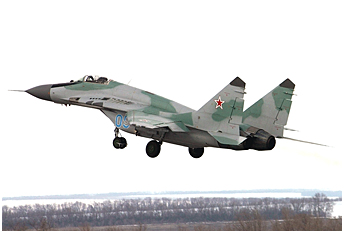 AP: Today was an unusual flying day for you. Tell us what happened at the airfield and in the heavens above it.
SA: Actually, today at the airfield there was a joint flying training exercise between the 1st Aviation Squadron from Krymsk Air Base and the 1st Aviation Squadron from our air group. It has been a year-and-a-half to two years since similar exercises have taken place. Now that we have gone to a new structure, we have to hone both mutual understanding and competition. And this has always been in the blood of a fighter pilot since he is by nature a battler. If I have to characterize today's results, I would say that everything went well for us. The pilots have wanted for a long time to show what they could do. They burned with desire as they awaited this day. Moreover, it is always pleasant to meet your comrades and friends in the heavens, even if it is in the form of an adversary. As I have already stated, our air group opposed today the Su-27 aircraft from Krymsk. On paper we are a single organism, but we [the 6972nd AB] actually are based at different airfields. Specific routes and mission variants were worked out based upon exercise conditions. The pilots prepared themselves and all missions were accomplished. I consider that the exercises were useful for both sides. The strongest will prevail. I will not excessively praise our crews, but there were no significant mistakes on either side. There were no breakdowns. Military pilots Guards Major Andrey Aksenov, Guards Major Konstantin Perikov and Guards Captain Aleksandr Salov executed all attacks, resulting in the destruction of the adversaries at the assigned lines and at the assigned time. We were somewhat apprehensive about the equipment since the aircraft had only just been repaired and they had to be looked over attentively. The Aviation Engineering Service Group prepared the fighters fully and they also deserve high marks for their efforts.

The author expresses his gratitude to Lieutenant Colonel Vladimir Drik, Press Secretary in the Russian Federation Ministry of Defense Press Service and Information Directorate, and Guards Major Vyacheslav Lavrenkov, Air Group Deputy Commander for Educational Work, for assistance in the preparation of this article.
NOTES
(1) The 6972nd Air Base was established at Krymsk and it encompass Millerovo airfield as well. The name 'Baranovichi' was inherited from the disbanded 209.GvIAP, which was moved from Astrakhan to Krymsk and combined with the local 562.IAP to form the 3.GvIAP in 2002.