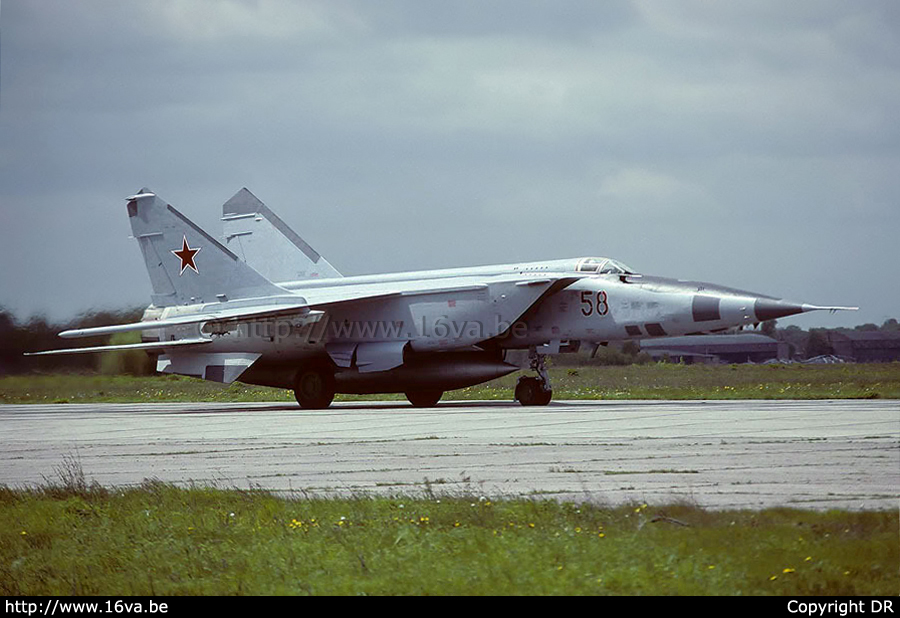 Les opérateurs SIGINT s'intéressaient aux multiples émissions pouvant provenir des appareils soviétiques, qu'il s'agisse d'émissions venant du radar de navigation et d'attaque, des moyens de navigation, ou encore des retransmissions de données au sol par data link. Ces ondes diverses permettaient entre autres d'identifier les appareils ou de déterminer les caractéristiques et les performances de leur radar. De plus, leurs caractéristiques fournissaient aux industriels les informations nécessaires permettant de produire des brouilleurs adaptés.
Seuls les MiG-25RBK et RBF - qui n'étaient que des RBK portés aux standards RBF - pouvaient transmettre des données par data link. Ces dernières provenaient de la suite ELINT Koub-3M dans le cas du modèle RBK et de la suite Char-25 pour la version RBF. Le MiG-25RBF illustré ici a été photographié à Werneuchen en 1991.
Western SIGINT operators were interested in all types of radio emissions coming from Soviet aircraft. They could be emitted by the navigation and attack radar, the various navigation systems or the inflight retransmission of information by data link. The data collected could be used to identify an aircarft type, the characteristics and the preformance of its radar or they could be useful to develop an appropriate means of counter-measures.
The MiG-25RBK and RBF (the latter were RBK upgraded to RBF standards) were the only "Foxbat" models able to transmit information by data link. The data collected came from the Kub-3M ELINT suite for the RBK model and the Shar-25 suite for the RBF model. The MiG-25RBF shown here was photographed at Werneuchen in 1991.