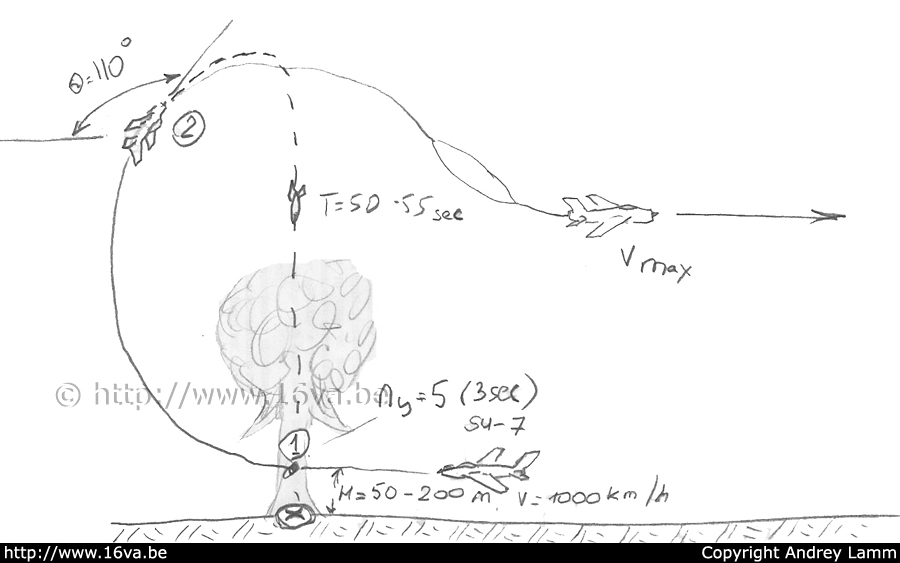 Le bombardement en ressource sous un angle de 110° qui était mis en oeuvre par les unités de Su-7, permettait de larguer une bombe nucléaire tactique non freinée avec une marge de sécurité confortable.
1- Le pilote commence à tirer sur le manche au-dessus de la cible ou environ 500 mètres avant. Le facteur de charge est d'environ 5G.
2- Au bout de 3 secondes, l'appareil se retrouve sous un angle de 110° et la bombe est larguée. Cette dernière suit alors une trajectoire parabollique et ne touche le sol qu'au bout de 50 à 55 secondes, ce qui laisse largement le temps au pilote de s'éloigner à vitesse maximale.
The LABS bombing under an angle of 110° was used by the Su-7 units to drop free fall tactical nuclear bombs.
1- The pilot started to pull on the stick above the target or about 500 meters before. The load was about 5G.
2- After three seconds, the aircraft had reached an angle of 110° and the bomb was dropped. The latter followed then a parabollic trajectory and hit the ground after 50 to 55 seconds. That left a good safety margin for the pilot to exit the target area at full speed.